One of the questions most frequently asked by travellers is " ist Tet a good time to visit Vietnam?" My answer is Yes, definitely, but you have to prepare well in advance to get the most out of your trip!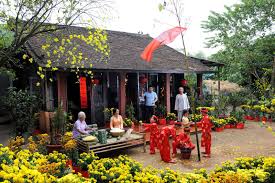 The meaning of Tet:
Tet, in vietnamese language, symbolises the very first morning of lunar new year an is the most sacred time for Vietnamese people.  Like Christmas in the West, a tree is set up in every house and a feast is prepared. Tet is the time for family reunions, exchanging gifts and best wishes for giving other and repaying debts. Painstaking care is given to start the new year with a clean slate, since it is believed that the first day of new year will determine to the forum or misfortune for the rest of the year, so everybody tries to only be in contact with things that represent good fortune.
Travellers will have to plan their trips well to ensure they get opportunity participate in Tet rather than just being an observer . Vietnam may be a little harder to visit at this time as most busineses are closed and many local people travel themselves to visit family or to holiday during the week long vacation.However, if you have close friends or family this opens up te oppotunity to be exposed to many of the colorfull Vietnamese traditions and to spend time with people as they enjoy the festive season.
In Vietnamese villages this a time for farmers to leave their fields and meet up with friends, neighbours and relatives. Young people also have chance to meet other young people and even their future partner. Women get dressed up with new cloths, even though they may have to travel long distance to reach the market.
      Tet is the time for family reunions, exchanging gifts, and best wishes forgiving others and repaying debts!