Our gift, click enjoy music and get information!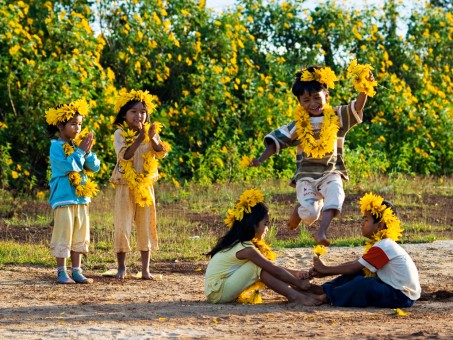 Dalat "the city of love"
     Maybe it is the flowers that make Dalat such a heaven for lovers. Situated halfway between heaven and earth on a plateau that separates it from more mortal places, this honeymooner's heaven is nestled amid immense pine forests and rolling hills.
Its ancient villas, tinged a graceful yellow or somber ochre, are ringed with flamboyant violets, grand old cherry trees and lithe mimosa. Its streets are lined with tall trees and in street markets, people offer shrubs and bunches of flowers for sale.
Dalat is one of the few places in Vietnam where the temperature rarely exceeds 25 degrees Celsius, even in mid summer. In the winter, it seldom drops below 10 degrees. This mild climate makes it ideal for flowers that fail to flourish in other parts of the country.
And so, Dalat has become a haven for horticulturists. It is home to over 40 different species of chrysanthemum, 15 species of rose, and an astonishing 300 varieties of orchid. Since the early 20th century, Lang Bian Plateau, on which Dalat rests, has lured amateur orchidologists. They came from as far away as London and Paris to study the region's orchids. Many take clippings, which they carry home and nourish lovingly so that botanical gardens across Europe can later enhance their own orchid gardens. Tulips, for example, arrived in Vietnam.
When dusk falls, young couples prefer strolling in the streets, with their arms round each other, while other people gather in small shops or open markets to buy flowers. Their love of horticulture is legendary, part of the nature-loving character of local residents.
Perhaps it is not just the beautiful flowers growing in Dalat from where so many Vietnamese composers and poets have found inspiration to write love songs and poems that that tug at listeners' heartstrings? Maybe the myriad of lakes and waterfalls located around the city have something to do with it. After all, which star struck lover doesn't dream of a romantic stroll through majestic scenery, arm in arm with the object of his or her affection?
Tuyen Lam Lake is one spot where springs, rivers and forests meet. Rain forest water come down from Elephant Mountain through the beautiful Tia spring and Da Tam River into the lake which covers 350 hectares.
Other waterfalls flow like shining walls of gems. Droplets the colour of sapphires and emeralds spiral to their deaths, forming fine sprays and dews as they fall. Visitors to Dalat can walk the hazardous bridge below Prenn Waterfall and listen to its waters as they drum to the eternal rhythm of the forest. Those looking for adventure can climb the near vertical path up to the top of the Datanla Waterfall. Each slab of stone is smooth and slippery, rubbed to a fine polish by the footsteps of fairies who were believed to walk around there.
Cam Ly Waterfall is just three kilometers from the centre of Dalat and has inspired many poets. One poet describes it as beautiful as in a dream. Charming amid the pine forests and fog.
Another famous spot is Da Thien Lake. Its deep, mysterious waters draw visitors to a charming place called Valley D'Amour by the former French colonists who discovered Dalat. Far beyond the valley, often shrouded in an enticing mist, is the Lang Bian Mountain. Lakes, mountains, mist. It would be difficult to find a more romantic combination.
Dalat's best-known lake is Xuan Huong Lake, which locals treasure as a gem in the heart of their flower city. It is so beautiful that poet Han Mac Tu once uttered the words:
Don't talk. Just keep silent
Listen to the water as it speaks from its depths
Listen to the trees as they whisper in the breeze
Listen to the words of love
Other scenic spots in and around Dalat have inspired lovers over the years. Although young couples come to these places only once to experience a whirlwind romance, they will never forget about having a good time together.